WHO IS MANOJ ?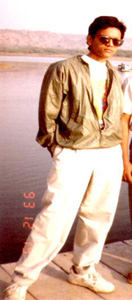 Awright !!! after all this hectic work of designing this page, I guess a little about me is justified. This is in no way an attempt to release the first version of my autobiography and neither have I acheived anything worth screaming to the the world. Who knows ? I might prove E=MC13 (I hope it isn't already !!) Yea ! that's me in the picture !!
Hey !! have you signed my GUESTBOOK ?. If you could spend a couple of minutes signing my guestbook, I'd really appreciate that. It's kinda leaving your mark !!
I am a 24 year old Indian
from New Delhi. I love music, parapsychology, computer programming (I am a code junkie !!). I love programming in C/Java/Javascript. I am now getting into ActiveX and VBscript programming. I have a lot of ambitions and I am working hard to make them come true.
I'll be adding more about myself and my friends later ! I am too busy right now for that. Thanks a ton for taking the time to visit my page and browsing thru my site. If you have any comments for me, please don't forget to Email me.